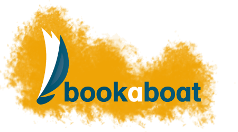 OFFLINE boat: approval is needed for booking (1 workday)!

ONLINE boat: you can book it within 2 min!
Content
Documents
Privacy statement
Privacy statement describes in details the use of the data you share with us.
In a nutshell: we don't share your data with other companies, only - in case of successful booking - with the lessor of your selected boat; at the same time we also share with you the contacts of the lessor in order to facilitate any further communication. We only send you newsletter in case you subscribe. In details find here.
General terms and conditions
In Terms and conditions you find all the necessary information about using our site and also describes what is the service we are providing. Accepting this document is compulsary for a successful booking, therefore please read it prior booking. Find here.
Payment terms
Credit card payment: This document prepared by CIB Bank describes the payment with credit card. In a nutshell CIB Bank also secures you that the bookaboat site will not get any creditcard information, we just recieve a note whether the payment was successfull or not. The document also serve as a tutorial for the online payment. In details find here.
Bank transfer: We also accept bank transfers or you can pay in at any local CIB bank. In this case we keep your selected boat reserved for 2 days; if you initiate international transfer please also contact us via email. Our bank account number is under Contacts menu.